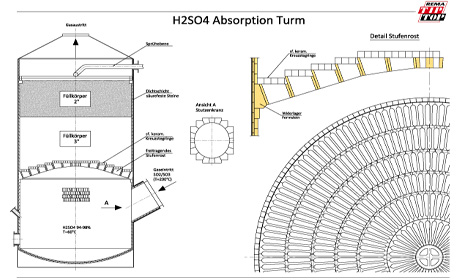 Successful implementation starts with understanding your wishes and requirements, analysing the process and concluding the local corrosion protection requirements. Specific consultation in the early stages of the project frequently helps to simplify the corrosion protection in terms of technology and cost effectiveness. Our experienced staff will be happy to assist you, in particular with regard to the construction of vessels, the right choice of materials and base preparation.
Once the framework conditions are agreed upon, the exposure to media and temperatures on site are defined, and the start-up and shutdown processes are analysed, we will discuss the eligible systems until we find the ideal solution for you.
WE ARE A FULL-RANGE SUPPLIER
… and we consider the consultation with the customer crucial for the process of assembling the ideal, individual corrosion protection system from the multitude of options in rubber lining, coating, brick lining, acid protection construction and plastics construction. Of course, we are also available to assist the customer in an advisory capacity during the implementation of the system in order to be able to react to changing challenges together in a flexible way.

CAREFUL PLANNING
... is, in our eyes, key to the successful implementation on site. On the one hand, this includes the planning of the corrosion protection system itself, but on the other hand, it also includes its timely application.
We design the implementation of brick linings and thermoplastic linings beforehand using a team of experienced design engineers and CAD technicians. We warrant that every part fits, even in the most challenging geometrical circumstances. Thanks to layout drawings and details in 2D and 3D, an accurate representation of the brick-lined container is available to you even in the early stages of planning. These drawings evolve into more detailed assembly drawings as the project progresses.
SUCCESS WITH PROFESSIONAL PROJECT MANAGEMENT
Challenging large-scale projects which may take us to the most remote corners of the world require professional project management and resource planning in order to ensure on-schedule implementation. This is where our experienced project managers come in. From the initial implementation planning to HSE portfolios and final documentation – everything is available for you from a single source.