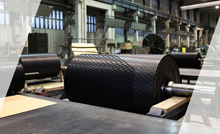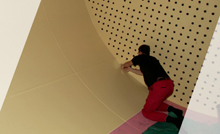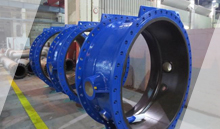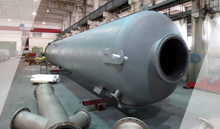 Workshop rubber linings offer excellent protection for components which fit inside an autoclave and can be transported, such as pipelines, flue gas scrubbers, quenching towers, venturi scrubbers, filter cases, storage vessels, reaction and pickling lines, centrifuges, road and railway tanks, containers, pumps and fittings, and rollers and rums. TIP TOP Elbe workshop rubber linings are not only an excellent choice for the protection against chemical exposure to acids, alkalis, and saline solutions, which become even more potent with increasing temperatures and temperature change, but also against mechanical stress.
TIP TOP Elbe has developed an extensive range of products in the field of workshop rubber linings. This range is the foundation for the individual choice of rubber qualities.
OUR RUBBER LININGS HAVE THE FOLLOWING PRODUCT PROPERTIES
Permanent chemical resistance and leakproofness
Permanent thermal resistance
Permanent mechanical resilience
Excellent adhesion to the substrate
Ageing resistance
Testability with high voltage
In order to ensure greater durability of TIP TOP workshop rubber linings, the surface requirements must be taken into account. These requirements are specified in EN 14879-1. The thickness of the workshop rubber lining can be modified with regard to the amount of stress; it is however at least 3 mm. It is possible to use several layers of rubber lining, one on top of another.
DIFFERENT MATERIALS ARE USED FOR DIFFERENT REQUIREMENTS
Workshop rubber linings are rubber sheets which are unvulcanised when applied to the prepared component substrate and are then vulcanised in the autoclave at increased temperatures (120 to 145 °C) and at overpressure conditions (3 to 6 bar). Steam or hot air is used as heat transfer medium in the autoclave. If the protective lining is to be successful for a long time, an individual material-specific regime must be followed during the heating-up period, the dwell time, and the subsequent cooling-down period of the autoclave.
TWO GROUPS OF MATERIALS TO BE DISTINGUISHED
Hard rubber linings
... are to be used exclusively in structurally stable components. They are usually based on natural rubber, but blends of natural rubber (NR) and polyisoprene (IR) or styrene-butadiene (SBR) rubber are also possible.

Soft rubber linings
... are also suitable for structurally less stable components due to their special flexibility properties. The materials are only referred to as soft rubber when they have been fully vulcanised.

The following rubbers are being used:
NR natural rubber
CR polychloroprene rubber
IIR butyl rubber
CIIR chlorobutyl rubber
BIIR bromobutyl rubber
CSM chlorosulfonated polyethylene
NBR nitrile rubber
Soft rubber linings are suitable for a variety of specific applications due to their high level of wear resistance.