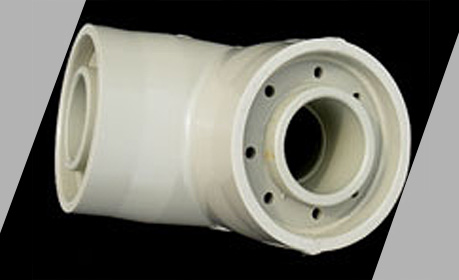 The pipelines and moulded parts are made of acid- and corrosion-resistant plastics like PE 100, PP-H (GF manufacture) or PVDF. Other materials are also available on request. All individual components of the double-walled pipelines are manufactured in accordance with DIN standards. The production of two-pipe components is performed in accordance with the applicable DVS regulations. Simultaneous welding is used for the welding of all double-walled components.
A MULTITUDE OF OPTIONS
Our range of available products includes straight pipelines with a standard length of 6 metres for PE 100 and 5 metres for PP-H and PVDF. The moulded parts are available as follows:
curved 45°
curved 90°
T-pieces
branches
fixed points
sensor points
reductions
adapter pieces
The integrity of the double-walled pipelines can be monitored using different systems. These systems can be visual supervision, liquid sensors, or pressure monitoring. The wall thickness of PVDF pipes may differ. We look forward to your request concerning the dimensioning of PE 100 and PP-H pipes.