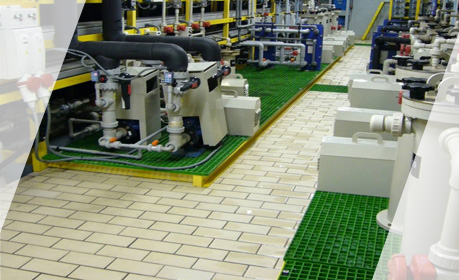 PERMANENT PROTECTION THROUGH COMBINATION COATINGS IN ACCORDANCE WITH EN 14879-6 AND AGI WORKSHEET S10
In order to ensure long-term protection even in environments with high levels of chemical, thermal, and mechanical exposure, we count on combination coatings which consist of a sealing layer and acid-resistant tiling. These tiles can consist of acid-proof ceramics or porcelain stoneware and can have a rectangular or hexagonal shape. Installation formed by vibration which consist of hexagonal porcelain stoneware tiles with narrow joints are used in settings with particularly high surface requirements, e. g. in the pharmaceutical industry. Tiling can be supplied in electrically conductive form by using a conductive grout.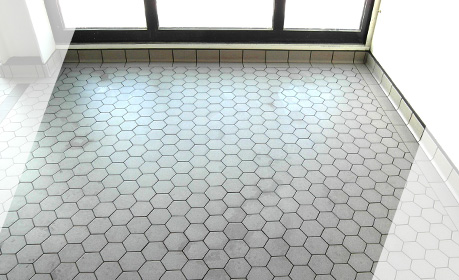 Together with you, we will analyse the expected chemical, thermal, and mechanical stress and exposure to determine the most suitable type of tiling and the best way to lay it. Our highly qualified technicians are responsible for the application, thus ensuring long-lasting quality and a visually pleasing result.