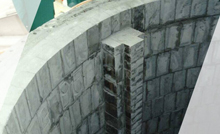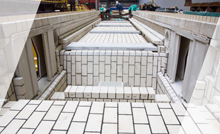 From materials consulting to design and implementation – TIP TOP offers competent service from a single source.
FULFIL INDIVIDUAL REQUIREMENTS
In chemical process technology or exhaust gas cleaning, there is often a high level of thermal and mechanical stress in addition to chemical exposure. Under extreme circumstances like these, even our proven lining systems require effective protection in order to be able to fulfil their task safely and permanently.
We offer this protection by providing a sophisticated system of acid-proof brick linings which is always adapted to the plant-specific stresses and exposure.
TIP TOP is ready to assist you with the implementation of your system.
MAXIMUM LIFESPAN, VERY COST-EFFICIENT
The systems are configured to perfectly match the sealing layer – whether you are using rubber lining or coating – to ensure a maximum lifespan and a high level of cost effectiveness. The system build-up for acid-proof brick lining always consist of a sealing layer or membrane, acid-proof ceramic bricks, carbon bricks, graphite bricks, insulating bricks or wear-resistant ceramics in conjunction with suitable synthetic resin putty or water-glass cement.
ADAPTED FOR THE ENTIRE PROCESS MANAGEMENT
We precisely analyse the local stress caused by chemical and thermal exposure and abrasive or mechanical stress in order to select the suitable materials with regard to the entire process management. In addition to tiles, standard formats and moulded bricks, our CHEMOKITT and Asplit lining mortars and grouting mortars ensure cohesion of the entire composition. Whether for pickling facilities, autoclaves, sulphuric acid towers, reactors in phosphoric acid facilities or quenches – we meet the broad range of possibilities for application with a diverse portfolio of mortar materials.
WE USE THE FOLLOWING BINDER MATERIALS FOR OUR SYNTHETIC RESIN MORTARS
binder materials on the basis of furan or phenol resins
unsaturated polyester resins
vinylester resins
epoxy resins or water glass
In combination with high-quality inert silica- or carbon-based filler materials, these binder materials ensure optimum adhesion to the underlying sealing layer and proper cohesion of the entire structure, while simultaneously offering a maximum degree of chemical resistance.
Products from the CHEMOKITT series or the Asplit mortars, which have proven their value over a long time and all over the world, are used depending on the kind of stress and exposure. Frequently, even high-alloy stainless steel is unsuitable for certain process conditions. In such circumstances, there is no way around acid-proof brick linings, tried and tested for many decades, to ensure economical downtime for a facility. TIP TOP Elbe is ready to assist you with the implementation of your system.