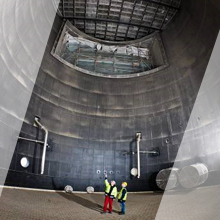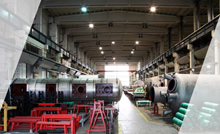 Due to the diverse stress and conditions in operational facilities, effective measures for corrosion protection are indispensable nowadays. TIP TOP rubber linings offer long-term reliable protection against corrosion and abrasion. Our innovative polymer technology permits the use of specifically developed rubber linings in the food and pharmaceutical industries, in drinking water facilities, and in nuclear facilities.
Of course, all TIP TOP rubber linings are in accordance with the currently applicable legal provisions. A great number of our rubber linings have general technical approval by the DIBt, the Deutsches Institut für Bautechnik (translates to German Institute for Civil Engineering).
OUR RUBBER LINING SYSTEMS ARE USED IN:
process vessels
storage tanks
pickling tanks
flue gas scrubbers / absorbers
thickeners
filter cases
centrifuges
pumps and fittings
fan assemblies
flow meters
rollers and drums
pipelines
street transport carts, containers, tank wagons and shops
concrete basins
The consultation with our experts is individually tailored to your wishes, needs and requirements. We look forward to hearing from you.