Vessels, Flue Gas Ducts, Chimneys, Facilities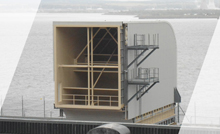 Resin coatings by TIP TOP Elbe are the number one choice for reliable and long-term corrosion protection in process plants.
Our coating materials are perfectly suitable for the use in various industries and fields of application. Our product range offers exceptional properties in terms of chemical and thermal resistance. Our spray coatings, trowelling coatings and laminate coatings for corrosion protection are manufactured and applied on the basis of epoxy, vinylester, furan, phenol, and polyester resins, using different fillers.
We are happy to assist you in choosing a suitable coating system, depending on the operating conditions, substrate, and location of application. Our coating materials are marketed under the brand names COROFLAKE, TIP TOP LINING, TOPLINE, REMACOAT and Asplit.