Spray Levels, Screen Baskets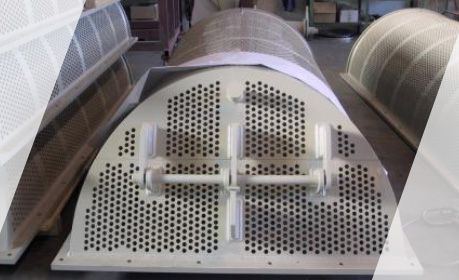 Nowadays, modern flue gas desulphurisation plants pose particularly high requirements in terms of the used materials. The flue gases, which are contaminated with highly corrosive sulphur compounds, and the washing suspension with solids continuously put all components used within such process plants to the test in terms of chemical resistance and mechanical stress. The conventionally used steel and GFRP structures must be protected with elaborate and time-consuming procedures and eventually provide only a limited durability.
SPRAY LEVELS AND SCREEN BASKETS MADE OF POLYPROPYLENE
TIP TOP Elbe uses a tried and tested material concept which has proven itself in practical use. Here, the spray levels and screen baskets used in FGD plants are manufactured completely from polypropylene using a technically and economically sophisticated and standardised production concept. Using polypropylene (PP) has the advantage that no elaborate additional protection is necessary. Other benefits include the prevention of deposit build-up and caking or encrustation due to the material's smooth surface. Chemical changes to the surface or damage as a consequence of absorption of the media are also prevented. The lifespan of the material is almost infinite. Depending on the construction and static layout of the components, a service life of more than 25 years can be expected.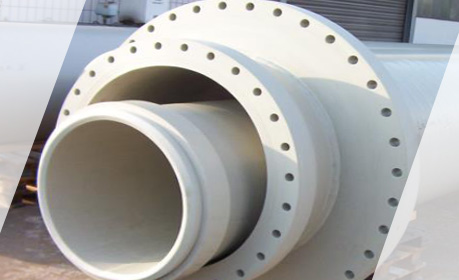 SHORT INSTALLATION TIMES, EASY SUBSEQUENT FITTING
The benefits of spray levels and screen baskets made of polypropylene also include short installation times, easy subsequent fitting and exchangeability as well as very easy maintenance. Aside from manufacturing and supplying, we are also available for the final assembly or installation supervision of the spray levels as well as for the complete engineering, including design drawings and manufacturing drawings. TIP TOP Elbe is approved as a specialised company in accordance with the WHG (Water Management Act). Our components are manufactured exclusively in our own production facilities in compliance with the regulations established by the Deutscher Verband für Schweißtechnik (German Welding Society, DVS), and they are manufactured exclusively by plastic welders who have successfully passed a welding exam performed in accordance with the DVS regulations.